$36.2MM financing of Cold Storage Facility loaded with soft costs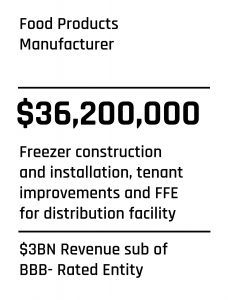 The Customer:
$3BN revenue food products subsidiary of a publicly held S&P BBB- rated entity
The Complexity:
Custom construction of property fixed to real estate
Requirement to manage multiple vendors for construction and installation over an extended period
Significant soft collateral including FF&E and substantial tenant improvements
In order to monetize the savings, the company required an extended term to large residual
Company was acquired mid-transaction and no parent guarantee was available
Financing was for a new distribution operation meant to bring previously outsourced services in house.
Due to the complexity, duration, and collateral mix in the projects, banks and other institutions were not interested in providing the financing. This left the company to consider using operating cash or issuing a bond.
The Clarity
100% financing for collateral and installation
16 months of progress fundings from $70K to $3.5MM per funding
84 month term to a large residual
Structure resulted a lower monthly payment so the client could realize the cash savings
Managed documentation in light of change in control
Financing for soft costs, installation and tenant improvements
Nexseer was able to step up and provide 100% financing for the project.